Last modified on 2014-08-21 14:09:25 GMT. 0 comments. Top.

We are very exited to be collaborating with Grey Heron Media for the first ever HearSay Festival which will be taking place in November this year. The festival will be taking place in the beautiful mountain village of  Kilfinane in Co. Limerick for three days and nights in November.
Registration is now open and as there are limited places we suggest that you register as soon as possible to avoid dissapointment: REGISTER HERE >>
This truly promises to be an audio festival like no other, with all sorts of wonderful audio delights to explore in unusual and unexpected ways. To find out more visit the HearSay website and stay tuned for more news.
Last modified on 2014-08-21 06:06:00 GMT. 0 comments. Top.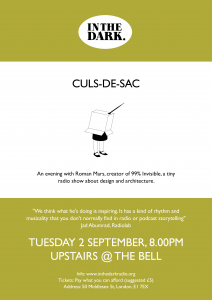 We have a treat for you London. Roman Mars, creator of 99% Invisible is in town!
99% Invisible is a tiny radio show about design and architecture. With over 20 million downloads, the 99% Invisible podcast is one of the most popular podcasts in the world. The 2012 season three fund raising campaign for 99% Invisible broke all previous records for a journalism project on Kickstarter. He is also the host and program director of PRX Remix, a 24-hour, innovative public radio story stream and a co-founder of Radiotopia, a collective of ground-breaking story-driven podcasts. Phew! He is perhaps the savviest and hardest working person in radio.
Roman will be playing a selection of audio that has inspired him and favourites from his own back-catalogue and there will of course be a Q&A so come on down and ask those burning questions.
Where: The Bell, 50 Middlesex St, London E1 7EX
When: Tuesday 2nd September, doors 7.30pm for a 8pm start
**THIS EVENT HAS NOW SOLD OUT. Please email rosanna@inthedarkradio.org if you would like to be notified for return tickets.**
Last modified on 2014-07-03 16:58:20 GMT. 0 comments. Top.

We're delighted that award nominee, Stig's Teeth, and the In The Dark Award at Sheffield Doc/Fest got such a big mention in this week's Spectator radio review by Kate Chisholm. Step aside Borgen! It's all about the Danish radio now!
Read the review here >>
Last modified on 2014-07-03 16:32:22 GMT. 0 comments. Top.

During Sheffield Doc/Fest 2014 The Guardian featured extracts from some of our favorite English language entries for the In The Dark Sheffield Audio Award (along with some enthusiastic discussion with The Guardian's Vicky Frost and ITD's founder, Nina Garthwaite).
You can hear all 4 episodes here >>