Last modified on 2014-03-10 08:29:38 GMT. 0 comments. Top.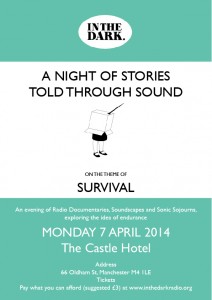 On Monday 7th April, we return to The Castle Hotel in Manchester, to ring in Spring with an audio exploration on the theme of Survival – from the dangerous depths of cave-diving to the upper reaches of outer space, from the moments after a crash to a heartbreak that won't quite kill you – we'll be bringing you sounds and stories from all over the world to make you stronger.
And if you have a doc on the theme of "Survival" you want to share, get in touch before March 30th and send us an mp3.
When: Monday 7th April, 7.30pm
Where: The Castle Hotel, 66 Oldham Street, Manchester, M4 1LE
Tickets: Pay what you can afford (suggested £3)
Note: Because the ticketing system for this event is by donation, if you would like to make a single payment for more than one ticket, please enter all the names in your party in the "special instructions to seller" option during the payment process.
Last modified on 2014-03-06 10:07:51 GMT. 0 comments. Top.

Submissions for The In The Dark Sheffield International Audio Award are now closed.  A huge thank you to everyone who submitted and spread the word. We were overwhelmed by the number of entries we received and are looking forward to the many pleasurable hours of listening ahead, along with our wonderful judges!
The three nominated works will be announced at the beginning of May on In The Dark's website and nominees will be contacted. They will form part of Sheffield Doc/Fest's official screening selection. The award winner will be announced on 12th June at the Sheffield Doc/Fest.
We will also point you in the direction of any work that we enjoyed that doesn't make the final three in the run up to the festival so stay tuned for some great listening!
Last modified on 2014-03-06 10:22:49 GMT. 0 comments. Top.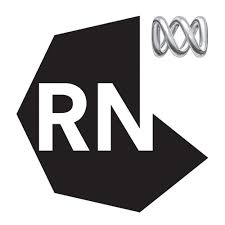 We're very proud to hear yet another broadcast outing for the Sound Bank – this time Esther Johnson's 88 Keys on ABC National's Sounds Like Radio 
You can hear all our grant winners, past and present, right here >> 
Last modified on 2014-03-06 10:23:42 GMT. 0 comments. Top.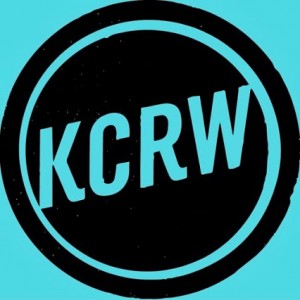 This week Steve Urqhart's grant winning piece "Cuts and Bruises" featured on KCRW's Unfictional – one of our favorite shows (so we couldn't be more chuffed).
Huge congrats to Steve and also many thanks to his mentor, Sara Parker (and all of you for your contributions that help make the Sound Bank possible).
Take a listen to the show (which is entitled Mano a Mano!) here >>