Last modified on 2014-09-24 17:40:40 GMT. 0 comments. Top.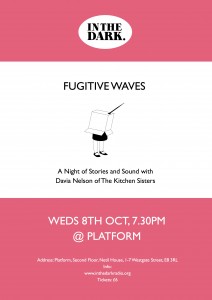 Fugitive Waves:  A night of stories and sound with Davia Nelson of The Kitchen Sisters
We're over the moon that in October we're going to be joined by Davia Nelson, one half of the multi-award winning San Fransisco based duo, The Kitchen Sisters. With their very own brand of quirky, cinematic, montage radio, the Kitchen sisters are part of America's radio royality.  Working together for the past 35 years their trademark is warm and intimate storytelling with a playful and eclectic musical edge. Since they started working together in 1979, The Kitchen Sisters have remained at the forefront of creative and technological change. As well as recent forays into live musical audio performance and multimedia audio projects, they are members of the Radiotopia collective, an exciting new experiment that promises to challenge traditional broadcasting, by drawing together the best in creative podcasting to create a financially feasible online audio channel. The Kitchen Sisters are the producers of several  NPR radio series collaborations including Hidden Kitchens, The Hidden World of Girls, Lost & Found Sound, The Making Of… and The Sonic Memorial Project.
We are also personally excited to have Davia join us – not only was she there at our very first event nearly 5 years ago, last year Davia also generously volunteered her time as a mentor for the Sound Bank grant. We're delighted that this long anticipated event can happen and hope that you can join us for what promises to be a very special In The Dark night.
Where: Platform, 2nd Floor, Netil House, 1-7 Westgate Street, E8 3RL. Take left on Westgate Street, down the passage parallel to the railway bridge and it's the second door on the left. Call 207 for entry if there is no one on the door and then climb up the the second floor for In The Dark and The Kitchen Sisters. http://platformlondonfields.com/
When: Wednesday 8th October, 7.30pm.
Tickets: £6
Last modified on 2014-09-24 17:52:28 GMT. 0 comments. Top.
Throughout October and November In The Dark will be rifling through the archives for a very special series of events. A rare opportunity to hear some of the classic radio works that helped shape the language of the creative radio we celebrate today.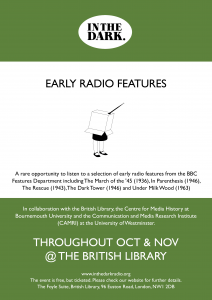 We will be playing you programmes from the BBC Features Department, created in 1945 and led by producer Laurence Gilliam with D.G.Bridson as his deputy. The late 1940s and 1950s were the heyday of the department, which quickly earned a reputation for the brilliance of its output and the heavy drinking elite who were the features producers.
These events are being held in conjunction with The British Library, the Centre for Media History at Bournemouth University and the Communication and Media Research Institute (CAMRI) at the University of Westminster.
We have worked closely with Dr Amanda Wrigley and Professor Hugh Chignell on this series and they have written articles which offer a little background and context about each feature, which can be found here.
Join us for this unique series that will open your ears to sounds past.
2nd October: The March of the '45, written by D.G. Bridson, and produced by Gordon Gildard and D.G. Bridson for broadcast in 1956. (First produced in 1936.)
16th October: In Parenthesis, written by David Jones, and produced by Douglas Cleverdon for broadcast in 1955. (First produced in 1946.)
30th October: The Rescue, written by Edward Sackville-West with music by Benjamin Britten and produced by Val Gielgud for broadcast in 1962. (First produced in 1943.)
13th November: The Dark Tower (1946), written and produced by Louis MacNeice with music by Benjamin Britten.
27th November: Under Milk Wood (1963), written by Dylan Thomas and produced by Douglas Cleverdon. (First produced in 1954.)
Where: The Foyle Suite @ British Library, 96 Euston Road, London NW1 2DB
When: Thursday 2nd October, 16th October, 30th October, 13th November and 27th November. Doors 5.00pm for a 5.15pm start (so we can squeeze in the whole feature before British Library closes its doors for the evening). Please note each feature is between 70 – 90 minutes in length and there will be an intermission at each event.
Tickets: All events are free, but ticketed. Please book your tickets through the British Library – here.
Last modified on 2014-09-14 09:41:44 GMT. 0 comments. Top.

We are very excited to be teaming up with the Manchester Literature Festival for a special event exploring "The Written Word" in sound. You'll hear about everything from the dangerous election days of Edgar Allen Poe to books with hidden chapters and some very unusual ways of getting rid of unwanted volumes.
When: Saturday 11th Oct 2014, 6.00pm
Where: International Anthony Burgess Foundation, The Engine House, Chorlton Mill, 3 Cambridge Street, Manchester M1 5BY
Tickets: Free but booking is advised by calling 0843 208 0500 or through the Manchester Lit Fest Website >>
Last modified on 2014-08-21 14:09:25 GMT. 0 comments. Top.

We are very exited to be collaborating with Grey Heron Media for the first ever HearSay Festival which will be taking place in November this year. The festival will be taking place in the beautiful mountain village of  Kilfinane in Co. Limerick for three days and nights in November.
Registration is now open and as there are limited places we suggest that you register as soon as possible to avoid dissapointment: REGISTER HERE >>
This truly promises to be an audio festival like no other, with all sorts of wonderful audio delights to explore in unusual and unexpected ways. To find out more visit the HearSay website and stay tuned for more news.
Last modified on 2014-07-03 16:58:20 GMT. 0 comments. Top.

We're delighted that award nominee, Stig's Teeth, and the In The Dark Award at Sheffield Doc/Fest got such a big mention in this week's Spectator radio review by Kate Chisholm. Step aside Borgen! It's all about the Danish radio now!
Read the review here >>
Last modified on 2014-07-03 16:32:22 GMT. 0 comments. Top.

During Sheffield Doc/Fest 2014 The Guardian featured extracts from some of our favorite English language entries for the In The Dark Sheffield Audio Award (along with some enthusiastic discussion with The Guardian's Vicky Frost and ITD's founder, Nina Garthwaite).
You can hear all 4 episodes here >>