Last modified on 2013-12-10 15:17:42 GMT. 0 comments. Top.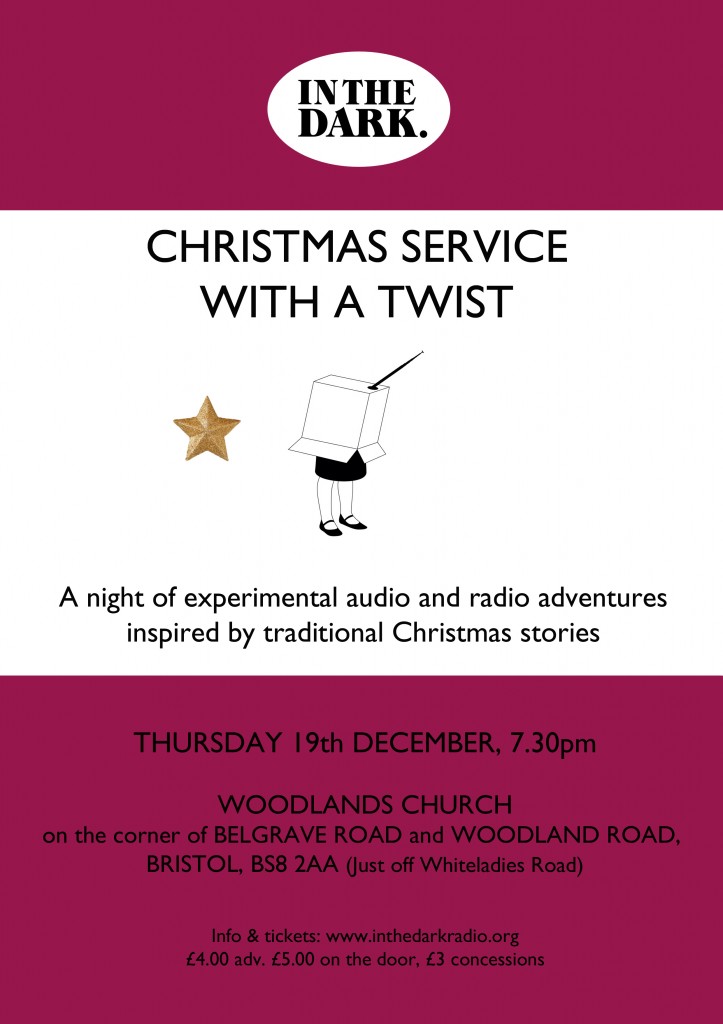 For the second ever In The Dark event in Bristol, it's beginning to feel a lot like Christmas!
We're hosting our very own Christmas Service with a Twist, in the beautiful Woodlands Church, just off Whiteladies Road.
Inspired by the Festival of Nine Lessons and Carols, we're bringing you some modern takes on the traditional festive stories.  Expect world class documentaries and dramas, audio artworks and sound experiments, with a uniquely In The Dark festive slant.
There'll also be mulled wine and refreshments for all.  Book early to secure your place!
When: Thursday 19th December, 7.30pm
Where: Woodlands Church,
on the corner of Belgrave Road and Woodland Road
Bristol, BS8 2AA
Tickets: £5.00 adv. £6.00 on the door, £4.00 concessions
Last modified on 2013-12-02 21:39:56 GMT. 0 comments. Top.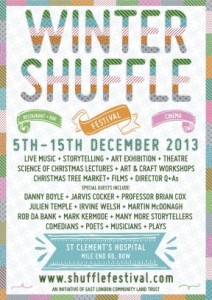 As the year winds to a close we are delighted to be joining the Winter Shuffle Festival in the old St Clement's Hospital in Mile End.
There will be all sorts of goings on from film screenings to live music and storytelling. Join In The Dark for two curated listening sessions:
Saturday 7th December, 8.00pm:
"I Was Happy, No Pain or Nothing" – fairy-tales for the modern world
Sunday 15th December, 8.00pm:
"Out of The Dark" – a second outing for our recent sci-fi themed session!
When: 7th and 15th December, 8.00pm
Where: The Living Room, St Clements Hospital, 2A Bow Rd, London E3 4LL
Tickets: Click here >>

Last modified on 2013-08-10 10:11:49 GMT. 0 comments. Top.
Following a very enjoyable premiere at the Ritzy cinema in Brixton we're very proud to present the grant winning pieces of the 3rd Sound Bank. You can now listen to them all online (below) – and you can also browse previous grant winning pieces here.
Cuts and Bruises (Steve Urquhart, UK, 2013)
Audio clip: Adobe Flash Player (version 9 or above) is required to play this audio clip. Download the latest version here. You also need to have JavaScript enabled in your browser.
A barber, who's also a boxer, shares the sounds and stories of his intermingling worlds.
Ian's boxing-themed barber shop combines two of his lifelong passions, both greatly influenced by his upbringing and aspects of his Colombian heritage. In this composed feature – recorded on location in the shop, the gym, and beside the ring – Ian prepares for his first bout in five years. How will his fighting compare with his trimming?
Steve was mentored by Sara Parker
88 Keys (Esther Johnson, UK, 2013)
Audio clip: Adobe Flash Player (version 9 or above) is required to play this audio clip. Download the latest version here. You also need to have JavaScript enabled in your browser.


An audio montage reflecting on the increased disposal of pianos. Weaving the tortured sounds of the destruction of one piano, with thoughts from the proprietor of London's last piano factory and a series of previous piano owners.
Esther was mentored by Nick Ryan
Under Ground (Simon Attwell and Kim Winter, South Africa, 2013)
Audio clip: Adobe Flash Player (version 9 or above) is required to play this audio clip. Download the latest version here. You also need to have JavaScript enabled in your browser.
South Africa's murder rate is 4.5 times the global average. They have twice the global rate in road accidents and are ranked no 1 in the world for HIV & AIDS deaths. For the most part, people are desensitized to the images of mourning – they are inserted into daily life alongside the price of eggs and our morning coffee. Who wants to talk about death?
Musician Simon Attwell and radio producer Kim Winter teamed up to produce this delicate portrait of death and mourning in South Africa and bring humanity and warmth back into this unwelcome subject.
Kim and Simon were mentored by Davia Nelson
Patrons Sound Bank 3:
(Individuals):
Jane Ray
(Organisations):