14th May, 7.30pm: One Night Stand … An Evening of Hardcore Listening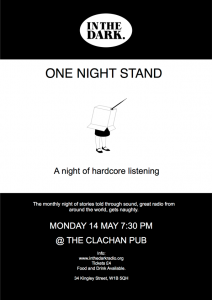 Join us for a night of hardcore listening as your regular dose of great audio gets naughty …
It'll be an audio romp from the Middle Ages to today, just off Carnaby Street.
The traditional English pub venue serves food, so make an evening of it with some of the world's finest radio producers, who will be visiting for the International Features Conference up the road at Broadcasting House.
A Warning: if you're offended by sexual content, this event is not for you.
When: Monday 14 May @ 7:30 PM
Where: The Clachan Pub, Kingley Street, W1B 5QH
Price: £4 advance/£5 on the door