5th March 2011, Clocks and Clouds – An All Day In The Dark Event!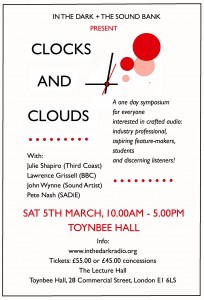 .
On 5th March In The Dark will be holding its first all-day event, the alternative audio conference for feature-lovers: Clocks and Clouds.
There will be talks, listenings, masterclasses and plenty of opportunities to meet and hang out with other producers and listeners.
For everyone interested in crafted audio: industry professionals, aspiring feature-makers, students and discerning listeners!
All the money raised from ticket sales will be going towards the next round of the Sound Bank grant scheme.
.
The Programme

1000 WELCOME Nina Garthwaite
1015 Julie Shapiro (Artistic Director of the Third Coast Festival) – Audio in the US: The State of the Airwaves
1130 coffee
1145 John Wynne (Sound artist/radio producer) will talk about 'composing audio' for the art scene as well as for broadcast
1300 Lunch (included in the ticket price) A chance to chat with guests and delegates over a bite to eat.
1345 Peter Nash (Monty Funk, SADiE) Peter will deconstruct one of his acclaimed documentary-drama mixes to reveal how raw tape can be turned into audio gold.
1445 Coffee
1500 Laurence Grissell (BBC Documentaries Unit) will be delving into the archives for forgotten gems of BBC feature production
1615 Final session co-hosted by Julie Shapiro and Francesca Panetta, including final Q & A with delegates and premiere of "When An Angel Passes …"
1700 End
Venue
The Lecture Hall
Toynbee Hall
28 Commercial Street
London
E1 6LS
Nearest Tube: Aldgate East
Tickets
£55.00 or £45.00 concessions.
Comments