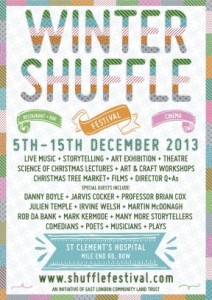 As the year winds to a close we are delighted to be joining the
Winter Shuffle Festival
in the old St Clement's Hospital in Mile End.
There will be all sorts of goings on from film screenings to live music and storytelling. Join In The Dark for two curated listening sessions:
Saturday 7th December, 8.00pm:
"I Was Happy, No Pain or Nothing" – fairy-tales for the modern world
Sunday 15th December, 8.00pm:
"Out of The Dark" – a second outing for our recent sci-fi themed session!
When: 7th and 15th December, 8.00pm
Where: The Living Room, St Clements Hospital, 2A Bow Rd, London E3 4LL
Tickets: Click here >>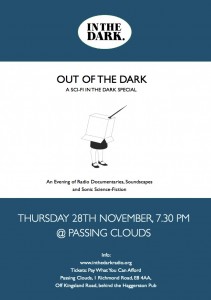 This month, we will be peering into the night sky and taking a sonic sojourn into  and the unexplainable and the unexplorable.  This audio odyssey, curated by In The Dark's very own
Sofia Saldanha
will be taking place in the
clouds
(almost!) in Dalston.
When: 28th November, 7.30pm
Where:
Passing Clouds
1 Richmond Road
E8 4AA
Off Kingsland Road, behind the Haggerston Pub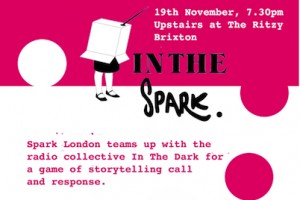 In The Spark is back! Mixing together true stories from
Spark London
with the audio expertise of In The Dark, this second collaborative night is part open mic and part curated audio experience. This time we're in the
Brixton Ritzy
It's all around the theme of FEARS… Tell your own true story or just sit back and listen, as In The Dark respond to stories with carefully selected clips. We recommend booking early as it'll be a popular one!
When: 19th November, 7.30pm
Where:
Brixton Ritzy, Coldharbour Ln, London SW2 1JG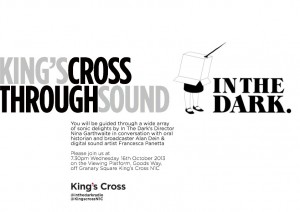 Next Wednesday 16th October we will be doing a very special event which is part of a series of unusual goings on atop the Kings Cross Viewing Platform in Granary Square.
From archive recordings and oral histories to contemporary podcasts, sonic arts and mobile apps, come along to close your eyes and open your ears to an alternative "view" of King's Cross.
You will be guided through this wide array of sonic delights by In The Dark's Director, Nina Garthwaite, in conversation with oral historian and broadcaster, Alan Dein, and digital sound artist, Francesca Panetta.
Where: The Viewing Platform, Goods Way, off Granary Square, Kings Cross
When: 16th October @ 7.30pm
Tickets: Sold Out!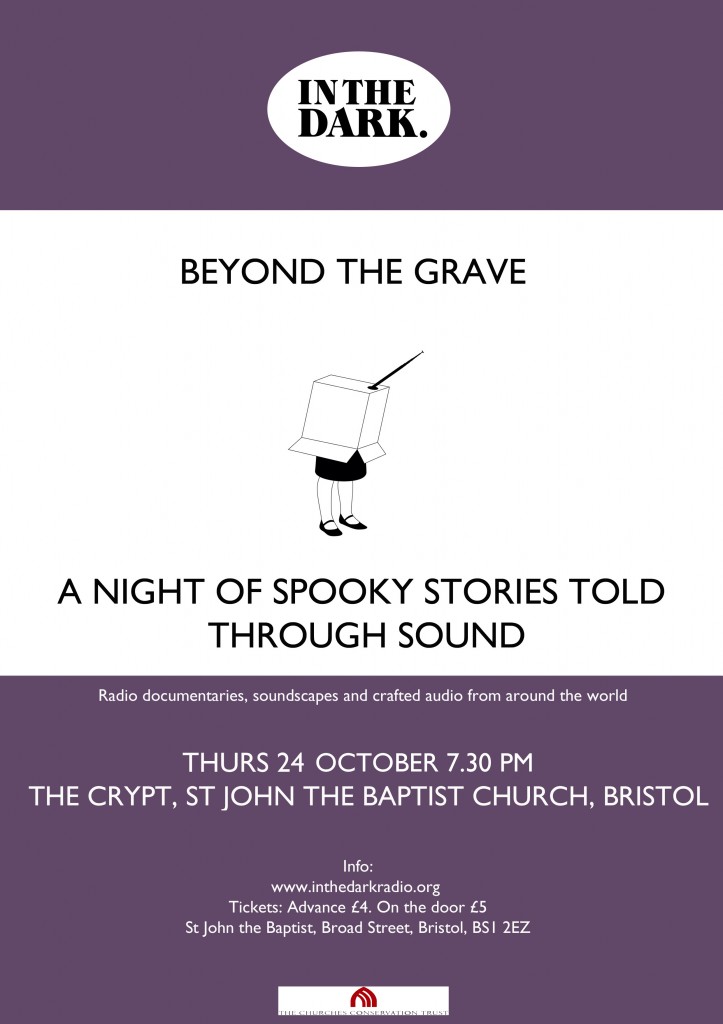 In the Dark
is going west for a very special night of stories told through sound.
For our first ever Bristol event we're taking up residence in the candlelit crypt of St John the Baptist's church for a night of audio adventures taking us beyond the grave.
Space is limited to 40 souls so we advise booking in advance to secure your place.
Please feel free to BYO drinks as there is no bar in the crypt.
When: Thursday 24th October, 7.30pm
Where: PLEASE NOTE WE HAVE CHANGED VENUE DUE TO NOISY DEMOLITION WORK OPPOSITE THE CRYPT
You will now find us at: The Study, Upstairs at The Big Chill Bar, 15 Small St, Bristol, BS1 1DE
TICKETS ARE NOW SOLD OUT!!
Please contact us to request to be put on the standby list for any ticket returns.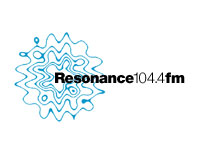 Please note the venue for this event has changed to The Craft Village.
This month we are travelling to Derry as part of Resonance FM's residency for the 2013 City of Culture activities. We'll be bringing our cinema of sound to The Craft Village. Audiences will be guided through a treasure trove of aural delights by In The Dark's Director Nina Garthwaite, in conversation with award winning Belfast-based producers Conor Garrett and Rachel Hooper.
Conor Garrett has been working in radio for 13 years.   He's produced a wide variety of live and built programmes for BBC Radio Ulster. As producer on Radio 4's The Listening Project, Conor has been instrumental in bringing Northern Ireland voices, stories and conversations to a UK wide audience since this landmark initiative was launched in 2011.  His achievements in this role have also just been recognised at the Phonographic Performance Ireland (PPI) Radio Awards, where The Listening Project won Gold in the Short Feature category.
Rachel Hooper has been producing radio for over 15 years. She worked in current affairs and documentaries at the BBC and left in 2010 to work with Falling Tree productions. She's based in Belfast.
When: 19th October, 7.00pm
Where: The Craft Village, Shipquay St, Derry, BT48 6AR
Tickets:
The event is free but places are limited so please
Email
to register.
How does life sound behind prison walls? On 27th September we will be joined by Steve Urquhart who will be curating an evening of listening featuring rarely heard voices of prisoners and ex-offenders in the UK and beyond.
Steve Urquhart has been producing radio for around twenty years. He creates short-form and long-form features for BBC Radio 4 (where he's also a continuity announcer) and BBC Radio 3. He's won several awards for his pioneering work with National Prison Radio in the UK, and he teaches radio production skills. He is also one of the latest batch of Sound Bank Grant winners!
Steve will be playing a selection of revealing and award-winning extracts and will also explore how prison radio benefit not only people in custody, but also their victims.
The event will be held inside the beautiful hall at
Only Connect
, a members' club for ex-offenders.
Where: OC Central, 32 Cubitt Street, London WC1X 0LR
When: 27th September, 7.30pm
Tickets: Pay what you can afford (suggested £5)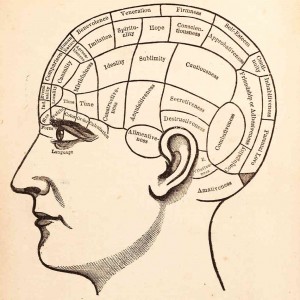 Another date for the diaries folks! On 1st November In The Dark London + Manchester are collaborating with
James Wilkes
  as part of
Dark Matters
, an all-singing, all-dancing late night special event at the Museum of Science and Industry in Manchester. We'll be playing a specially curated session exploring the darker recesses of the brain, including some originally composed material.
The event is free and there will be all sorts of other weird and wonderful goings on around the building – not to be missed!!
When: 1st November, 7.00pm – 11.00pm
Where: Museum of Science and Industry, Liverpool Rd, Castlefield, Manchester M3 4FP
Tickets: Free Register >>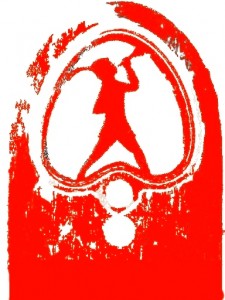 In The Dark is expanding and we need more volunteers to help us keep up! We're looking to get more hands on deck in London, Manchester and Berlin!
Please get in touch to find out more:
London >>
Manchester >>
Berlin >>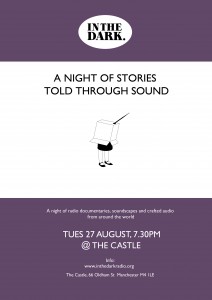 Next week on 27th August sees In the Dark travel to Manchester with a night of audio and radio in the Castle Pub on Oldham Street in the city's Northern Quarter.
So come along to hear a selection of the best great stories, adventures and recollections from the In The Dark archives.
It will be a great night for anyone interested in radio and storytelling to hear some great audio and meet some fellow lovers of radio.
This is the first of a series of events in Manchester!
When: 27 August, 7.30pm
Where: Castle Pub, Oldham St, Manchester