Last modified on 2013-12-02 21:39:56 GMT. 0 comments. Top.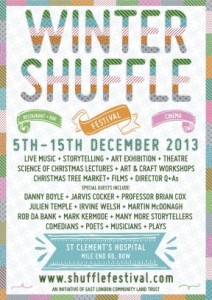 As the year winds to a close we are delighted to be joining the Winter Shuffle Festival in the old St Clement's Hospital in Mile End.
There will be all sorts of goings on from film screenings to live music and storytelling. Join In The Dark for two curated listening sessions:
Saturday 7th December, 8.00pm:
"I Was Happy, No Pain or Nothing" – fairy-tales for the modern world
Sunday 15th December, 8.00pm:
"Out of The Dark" – a second outing for our recent sci-fi themed session!
When: 7th and 15th December, 8.00pm
Where: The Living Room, St Clements Hospital, 2A Bow Rd, London E3 4LL
Tickets: Click here >>