Belgium Event


18th October 2014 – 25th March 2015
Rum & Roem
A Live Radio Drama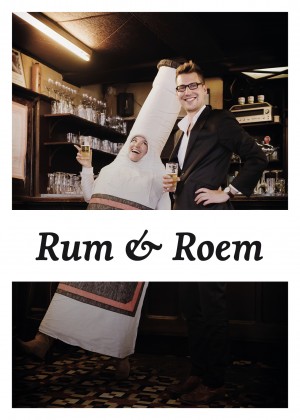 The intoxicating radio drama 'Rum and Ruin' takes you to the debauched world of drunkards, lager louts and loose women. Is good literature produced by the grace of alcohol? Or are beer and wine perniciously poisonous?
In 'Rum and Ruin', writer Maarten Inghels and radio producer Katharina Smets reveal a literary secret never heard before on FM.
By sheer coincidence, Katharina stumbled across Kenneth Wood in the poetic underground of the United States. A poet in a trailer park near Detroit who was at the legendary 1984 Brussels Poetry Night with Allen Ginsberg. A night where everything changed. Kenneth Wood was fortunate enough to witness Ginsberg reading a new poem in which he solemnly swore never to touch either booze or drugs again.
Maarten Inghels and Katharina Smets dive into a world of unexpected meetings and insatiable poets. They will present you with a scoop: a poem, never read aloud before, by the most renowned 20th century American poet.
'Rum and Ruin' is produced by VONK & Zonen.
---
WHEN: 18th October 2014 – 25th March 2015
---
WHERE: 
• 18/10/2014: Krachtvoer, DE Studio, Antwerp
• 22/11/2014: De Nacht van VONK, DE Studio, Antwerp
• 18/01/2015: Theaterzaal Peer, Toast Literair, Peer
• 28/01/2015: Huis DeBuren, Brussels Book Now >>
• 31/01/2015: De Nacht van de Journalistiek, DE Studio, Antwerp Book Now >>
• 04/02/2015: CC BELGICA, Dendermonde Book Now >>
• 14/02/2015: Berlin, Germany Book Now >>
• 25/03/2015: Tumult in Ghent, Ghent Book Now >>
---
TICKETS: Click on the links above or email mail@maarteninghels.be for more info
---