"Beyond the Grave" – Thursday 19th July @ Abney Cemetery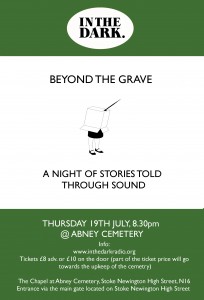 PLEASE NOTE: Due to popular demand we are holding a second sitting of this event, meeting at the cemetery gates at 9.45pm.
For one night only, In The Dark will take up residence in a derelict chapel set in the midst of the historical Abney Cemetery in Stoke Newington, for a night of stories told through sound.
This time we're asking for a prompt arrival by 8.30pm at the cemetery gates. For safety reasons, all In The Dark guests will be escorted by experienced grave diggers from the main gate to the chapel.
Guests are warned against wandering off on their own, and must be escorted at any time during their stay at the cemetery.
Bon Courage!
Please note: Guests can bring own food and drinks (within reason) to the event, as their will be no bar on the night.
When: Thursday 19th July, 9.45pm (10.00pm start)
Where:
The Chapel at Abney Cemetery,
Stoke Newington High Street, N16
Tickets: £8.00 adv. £10.00 on the door (part of the ticket price will go towards the upkeep of the cemetery)