Bristol Event


3rd September 2015
Into the Woods
Leigh Woods Flotilla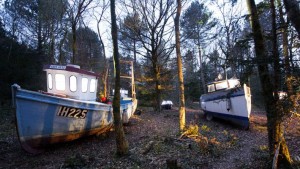 Come and play… where the wild things are…
Join us in Bristol's beautiful Leigh Woods, near the flotilla of abandoned fishing boats. Don a pair of our special wireless headphones, and tune in to a lovingly curated mix of radio stories, audio adventures, documentaries and surprising tales. Tales of wandering out into the wild, going where your feet take you, discovering new territory, and sleeping under the stars. Tales of getting lost, and getting found again.
We invite you to wander the forest while you listen. Commune with nature. Climb a tree. Or just lie on the forest floor and watch the dusk gather.
---
WHEN: Thursday, September 3rd 2015, 7pm
---
WHERE:  Meet in the Forestry Commission car park at BS8 3PZ (on North Road, off the A369), and we will take you to the boats.
---
TICKETS: £9 each, including headphone hire
Available to purchase here: https://www.eventbrite.co.uk/e/in-the-dark-into-the-woods-tickets-18312276512
---