Bristol Event


12th November 2014
Deep Space Radio
Bristol Planetarium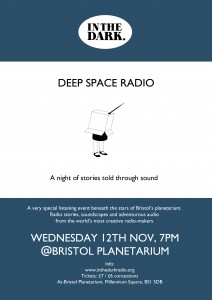 Journey into the dark of space with us for a night of radio stories, soundscapes and adventurous audio in Bristol's planetarium.This is an event for anyone who has ever gazed up at the milky way, anyone who's ever wondered if we're alone in the universe, and anyone who has ever wondered what the inside of that big silver sphere on Bristol's Millennium Square looks like.Let us take your ears to the final frontier. To infinity, and beyond!
---
WHEN Wednesday 12th November, 7.00pm
---
WHERE At-Bristol Planetarium, Millennium Square, Bristol, BS1 5DB
---
TICKETS This event has now sold out. Please email bristol at inthedarkradio.org to go on the waiting list for returns. Thanks!
---