Event: Weds 7th May – Radio Tapas @ The Georgian Study – Big Chill, Bristol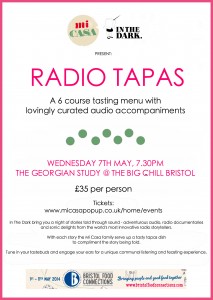 For our next Bristol event, we're joining forces with our chef friends from Mi Casa to bring you a night of amazing radio and delicious food.
Join us for a lovingly curated set of audio adventures, radio documentary and sonic delights.
Each piece we play will be accompanied by a dish, specially created by Mi Casa to complement the story.
Good food. Good radio. Good people. A feast for ears and belly!
When: Weds 7th May @ 7.30pm
Where: The Georgian Study @ Big Chill, Bristol
15 Small St, Bristol, Avon BS1 1DE
Tickets: £35 per person (for a six course tasting menu)
Tickets are available now from the Mi Casa website. Space is limited so please book early! http://www.micasapopup.co.uk/home/events