London Event


6th November 2014
Two Wheels Good
Look Mum No Hands! Hackney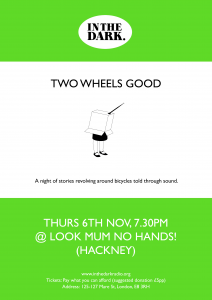 You won't need to have passed your cycling proficiency to enjoy our next London event at the wonderful bicycle-friendly bar Look Mum No Hands! Just bring those ears because we've got a great selection of stories about life on two wheels. How do you choose a bicycle to match your new identity? How many different names for rain do London's city messengers have? How does this simple mode of transport connect a 1940's housewife and Frank Zappa.
All will be revealed!
Join us for an evening of stories told through sound.
---
WHEN Thursday 6th November, 7.30pm
---
WHERE Look Mum No Hands! 125-127 Mare Street, London, E8 3RH
---
TICKETS Available on the door, pay what you can afford (suggested £5, per person)
---