Mon 25th April: In The Dark feat. Martin Williams @ Passing Clouds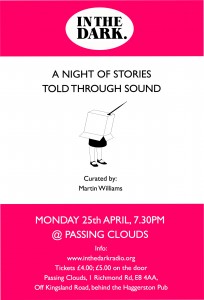 We're back at one of our favorite venues this month, Passing Clouds and we're very pleased to be joined by guest curator Martin Williams. Martin's work has aired on Resonance FM, where he featured in their New Year's Eve line up, described as "the country's finest radio artist".
His work has be used in the Deep Wireless festival in Canada, Radio New Zealand, and in films. He currently works for the BBC.
Details
Monday 25th April@7.30pm
Venue
Passing Clouds
1 Richmond Road
E8 4AA
just off Kingsland Road behind the Haggerston pub
Tickets
£5.00 on the door