Issue #7
Friends! Autumn 2014 has made its presence felt already in London, and as we consider the rich seasonal tones, let our picks from the summer play that trick that audio can do so well, and tranport you, with pieces heard in Berlin, Manchester, at the Latitude Festival, and in London.
[ audio ] Roman Mars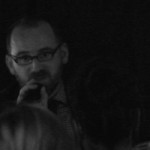 We were very excited when the brilliant Roman Mars agreed to hold an intimate listening session for us in early September. It was our fastest selling event, with all tickets gone within a couple of hours! The room was packed out and Roman was a real treat, sharing stories from behind the scenes at 99% Invisible and excerpts of audio that has tickled and inspired him.
Of the many delights we particularly enjoyed this excerpt of  Season 1 of CBC Wiretap (which as we write is starting season 11) on "Juggling on the Radio"– he loves where it brings us in radio.
Audio clip: Adobe Flash Player (version 9 or above) is required to play this audio clip. Download the latest version here. You also need to have JavaScript enabled in your browser.
Listen to the full episode here.
[ audio ] Nina Garthwaite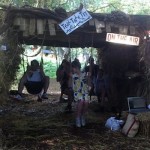 We were back at Latitude again in July with our very own listening tent in the Faraway Forest. The theme in the forest this year was secrets and lies. While we regaled festival goers with creative audio from around the world in the "Tell Tale Tit", (our woven wicker tent built by our partners at The Morning Collective), In The Dark's Katharina Smets went wandering around our campsite, making friends with strangers and sweet-talking them into 'fessing up to their deepest darkest secrets.
The audio was later played as part of our programme in the forest.
Listen here:
Audio clip: Adobe Flash Player (version 9 or above) is required to play this audio clip. Download the latest version here. You also need to have JavaScript enabled in your browser.
[ audio ] Nija Dalal Small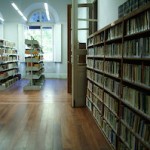 Meanwhile in Manchester the newest addition to our crew of audiophiles, Nija Dalal, has been holding events on themes ranging from Summer Sounds to Survival. Her favorite piece of audio so far is the Paper Radio/ABC creation in and about the modern urban library. Shush!
Listen on the ABC website.
[ audio ] Phil Smith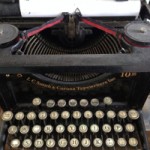 Between April and August we also held two one-off events in Berlin. The first, at Madame Claude's  (a bar in which the furniture is all, um, glued to the ceiling) we played audio on the theme of "Upside Down". Former Sound Bank winner (and now one of our motley crew) Phil Smith recommends Robert Shields, World's Longest Diary, about a man who has no life to report because he spends four hours every day reporting on his life, in his underwear, in his house, in what must be the world's most comprehensive yet astoundingly mundane diary. "I don't leave town. I haven't left town since 1985 […] If I travel to Walla Walla to do shopping, it puts me behind in the diary." He comes across as a happy chap, full of purpose, and the journalist's piece (1994) enters nicely into the absurd logic of this man's self-chronicled world.
Audio clip: Adobe Flash Player (version 9 or above) is required to play this audio clip. Download the latest version here. You also need to have JavaScript enabled in your browser.
Listen to more of Sound Portrait's great work in their archive.