New regular events starting in May: In The Dark @ The Wapping Project Bookshop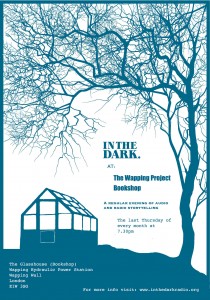 Starting in May In The Dark will be taking up regular residence at the Wapping Project Bookshop, holding events on the last Thursday of every month.
The Wapping Project Bookshop is housed in a small glasshouse that fits between 8-15 people, creating an intimate listening environment and a playground for live sound experiments.
There will be everything from themed listening events and archive spotlights to "open mini-jack" nights and experiments in live production.
All events are £4.00 advance or £5.00 on the door (unless otherwise stated).
And our first event on 31st May is absolutely free!
For more info about the up-coming events click here >>