Sunday 26th September, 8.00pm: In The Dark Featuring Resonance FM @ The Jellyfish Theatre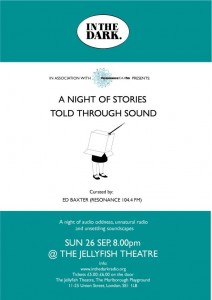 This month In The Dark teams up with Resonance FM's Ed Baxter to curate a night of audio oddness, unnatural radio and unsettling soundscapes in one of London's newest venues. Mixing everything from 70s audio porn to TS Eliot by way of Leslie Phillips, In The Dark promises you a thoroughly unusual night at the theatre.
Our Curator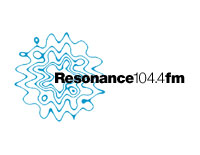 The event will be curated by Ed Baxter who is programming director of Resonance104.4fm, winner of the Radio Academy's Nations and Regions Award for London. Ed favours a lo-fi aesthetic, conceptual art and expressionism. The evening promises contributions from Australian vocal pyrotechnician Chris Mann; award-winning climbing writer Jim Perrin; Barry Humphries interviewing TS Eliot; 1970s audio porn; the Resonance Radio Orchestra; a cast-list to put The Expendables to shame; and a new piece written for Leslie Phillips.
The Venue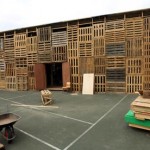 And as if that wasn't enough, we are very excited to be hosting the evening at The Jellyfish Theatre, London's first fully-functioning theatre made entirely from recycled and reclaimed materials. The theatre is temporary and will be dismantled in October, so catch it while you can!
The Jellyfish Theatre
The Marlborough Playground
11 – 25 Union Street
London SE1 1LB
The nearest underground stations are London Bridge, Borough and Southwark.
Advance Tickets are no longer available but there will be tickets available on the door

Comments