Valencia Event


5th October 2023
SONIQUETES
Espai Llimera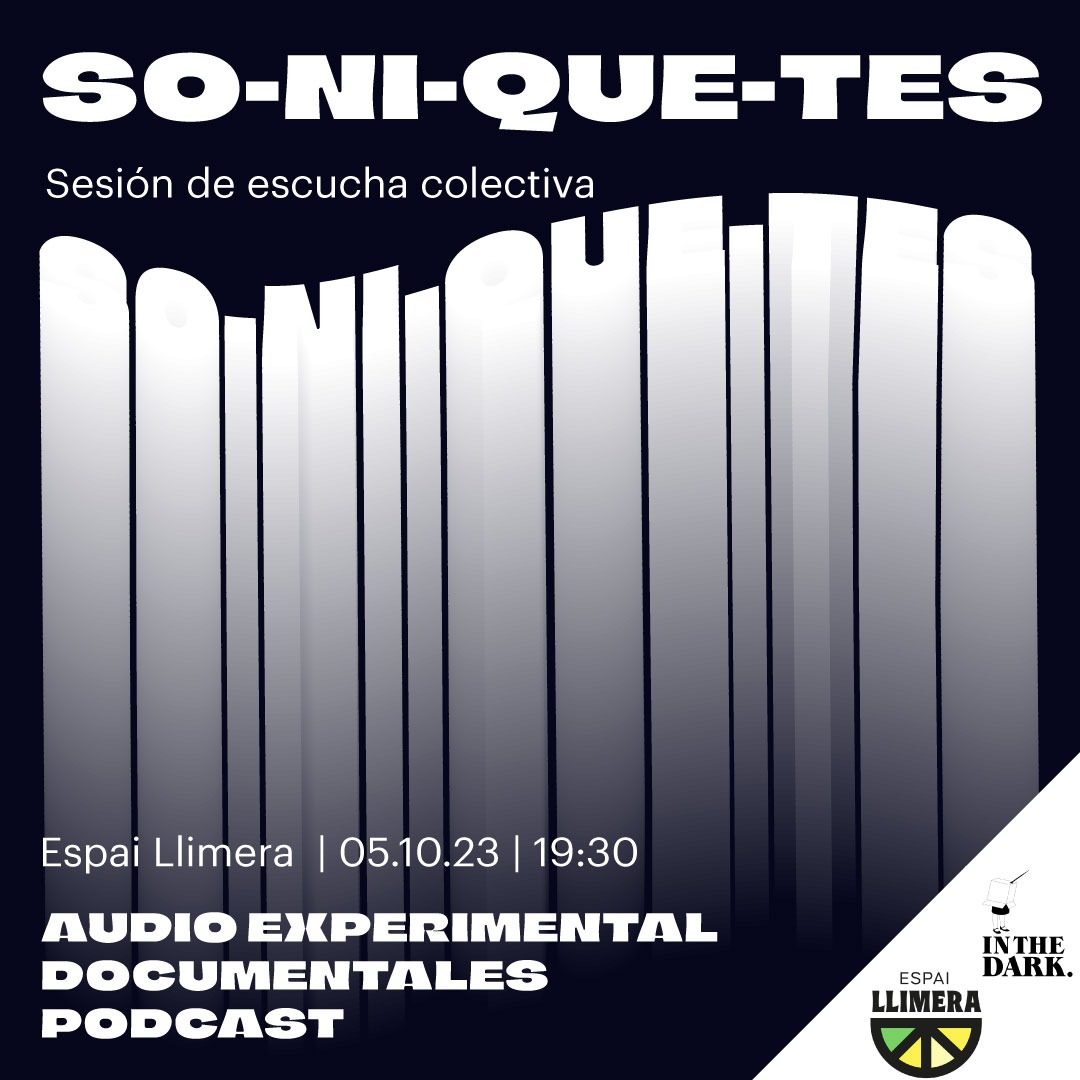 An evening of experimental audio, radio documentaries and podcasts, in Spanish and English.
SONIQUETES is a new listening event series in Valencia for audiophiles to meet up and listen to a selection of pieces which play with the boundaries of sound.
The first event, held in association with In The Dark, will feature works from Spain, Argentina, Germany, UK, Ukraine, US and France. All pieces are in English or Spanish.
SONIQUETES is a listening event series for anyone interested in creative audio, storytelling and/or journalism to meet up in an informal environment, listen to great audio, have a drink and a chat.
It is an initiative by Carys Wall and Laura Romero, with support from In The Dark Audio and Espai Llimera (C/ de Timoneda, 6. Valencia)
SP:
Una tarde para compartir audio experimental, documentales radiofónicos y podcast, en español e inglés.
¿Te interesa el mundo del audio creativo y de la narrativa o simplemente te apetece escuchar buenas historias? ¿Trabajas en el mundo del podcasting, de la creación sonora o de la comunicación/periodismo?
Acompáñanos en este primer evento en Valencia que inaugura un ciclo de sesiones en las que nos reuniremos para escuchar una selección de piezas que juegan con las infinitas posibilidades del sonido.
En esta ocasión escucharemos obras de España, Argentina, Alemania, Reino Unido, Ucrania, Estados Unidos y Francia, en español e inglés.
Será un ambiente informal donde podremos tomar algo y/o comentar las piezas escuchadas.
SONIQUETES es una iniciativa de Carys Wall y Laura Romero, con el apoyo del colectivo In The Dark Audio y de Espai Llimera (C/ de Timoneda, 6. Valencia)
---
WHEN: Thursday 5th October, 7.30pm
---
WHERE:  Espai Llimera, 6 Carrer de Timoneda 46008 València Spain
---
TICKETS: Free.
---