Wed 21st March 2012: Cityscapes@The Wapping Project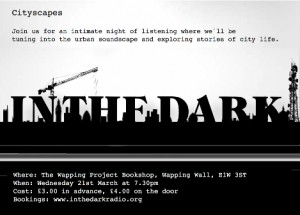 Join us for an intimate night of listening where we'll be tuning into the urban soundscape and exploring stories of city life.
We're back in the Glasshouse at the Wapping project (complete with wood burning stove!) so book early as the venue only fits 8 people!
When: Wednesday 21st March at 7.30pm
Where: The Wapping Project Bookshop, Wapping Wall, E1W 3ST
Price: £3.00 advance, £4.00 on the door
SOLD OUT