Last modified on 2014-07-03 16:58:20 GMT. 0 comments. Top.

We're delighted that award nominee, Stig's Teeth, and the In The Dark Award at Sheffield Doc/Fest got such a big mention in this week's Spectator radio review by Kate Chisholm. Step aside Borgen! It's all about the Danish radio now!
Read the review here >>
Last modified on 2014-07-03 16:16:51 GMT. 0 comments. Top.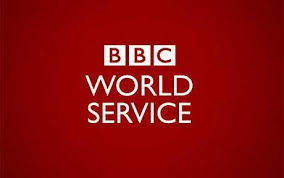 On Sunday 15th June 2014, In The Dark's founder, Nina Garthwaite, joined host of the BBC World Service' Arts Hour, Nikki Bedi, to talk about the nominees for the In The Dark Sheffield Audio Award and why radio has now become a part of the world famous documentary film festival. Listen here >>
.
.

Last modified on 2014-07-03 16:32:22 GMT. 0 comments. Top.

During Sheffield Doc/Fest 2014 The Guardian featured extracts from some of our favorite English language entries for the In The Dark Sheffield Audio Award (along with some enthusiastic discussion with The Guardian's Vicky Frost and ITD's founder, Nina Garthwaite).
You can hear all 4 episodes here >>

Last modified on 2012-04-12 11:58:16 GMT. 0 comments. Top.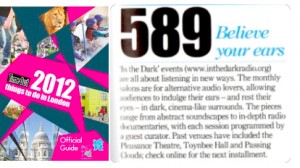 Just spotted! In The Dark has been featured in Time Out's official Olympic guide, 2012 Things To Do In London.
We're proud to have been allocated the grand position of 589 (although we're not sure it's in any particular order)
We'll have to do an Olympic Themed In The Dark to celebrate …. features on pole vaulting, anyone?
Last modified on 2014-07-03 20:07:34 GMT. 0 comments. Top.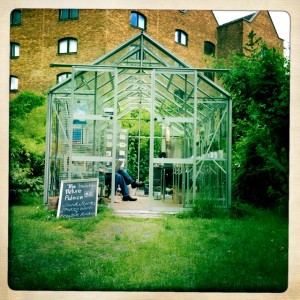 A lovely feature on the Invisible Picture Palace – the radio record store we set up during a 6 months residency at the Wapping Project in 2012.
The piece includes clips and conversation about some of our favorite LPs and CDs that we had the pleasure to discover, hear and play during our stay there (including some very rare finds!)
We also happen to think this is a beautifully produced audio piece in it's own right. Kudos to producer, Katie Bilboa!
.
Last modified on 2012-03-30 22:45:47 GMT. 0 comments. Top.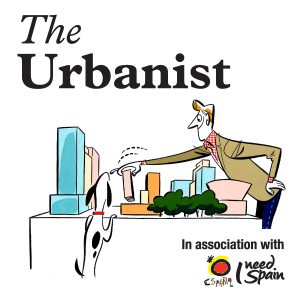 In The Dark's Ed Prosser was recently invited onto Monocle 24's The Urbanist show to talk about the recent Cityscapes event which he curated for us at the Wapping Project Glasshouse. You can listen to the piece at the end of the podcast here >>
You can also find out more about Ed's picks and hear his beautiful piece "The Dustbinman Cometh" which he created especially for the end of the event here>>
Last modified on 2012-03-31 20:24:41 GMT. 0 comments. Top.

A substantial mention of In The Dark in the Spectator this week following the broadcast of Short Cuts on Radio 4 (presented by our Director Nina Garthwaite)!
Last modified on 2012-01-10 14:48:15 GMT. 0 comments. Top.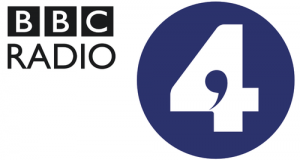 Happy New Year! And to kick things off In The Dark's Nina Garthwaite will be presenting a new series on Radio 4 showcasing just the kind of radio In The Dark holds dear in a programme called Short Cuts, produced by the brilliant Falling Tree Productions. Tune in every Tuesday at 3.00pm for the next 4 weeks on Radio 4.
The first episode features many In The Dark favorites including Resonance Fm, Robin The Fog, Joe Dunthorne, Pejk Malinovski and Andrea Silenzi. It's like a group listening event! But broadcast on the wireless!
But for those of you who'd rather gather in a darkened room with 50+ others to listen to your audio, don't fret! We'll be bringing you news of this year's events very shortly!! Until then, enjoy great radio… the old fashioned way!
Last modified on 2011-08-13 16:03:16 GMT. 0 comments. Top.

"It was exciting afterwards," said one of the DJs featured in Lights Out, a short radio feature produced by Delaney Hall, "but while it was going on, it was scary." He was referring to the 1977 massive blackout in New York that brought his set – along with everything else in the city – to a halt.
But he could just have easily been referring to the process of judging a radio competition on ideas rather than finished programmes, as I did for the first Sound Bank awards organised by In the Dark. Open to all, and seeking to fund bold and adventurous radio, the competition attracted entries from experienced producers to those new to radio.
Last modified on 2011-03-14 17:29:53 GMT. 0 comments. Top.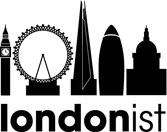 Great review of In The Dark's all-day event, Clocks and Clouds in the Londonist!
"The day involved some excellent, expertly crafted audio documentary.  It was a joy to just sit and listen with no other distractions, and to share the experience at the same time."
"Clocks and Clouds revealed a rich radio scene and proved that listening doesn't have to be a solitary or domestic experience.  There's much more to speech radio than the mainstream and the traditional.  There's currently something of a boom in creative audio websites and listening parties might just be the next big thing in nights out."
Last modified on 2010-10-02 11:07:45 GMT. 0 comments. Top.

A lovely mention of In The Dark as well as recent curators The Hackney Podcast and Resonance FM in The Guardian today. Make way for the new Golden Age of British Radio!
By Elizabeth Mahoney
Hackney Podcast's golden win at the New York Festivals Awards demonstrates how radio art is flourishing in Britain
It was heartening to hear how well British radio fared at the New York Festivals Awards, winning 11 gold gongs, and one of just two Grand Trophy awards – the latter going to independent production company Ten Alps Radio for The Woodstock 40th Anniversary.
Another deserving winner was the Hackney Podcast, which took a gold award for its terrific "Night in Hackney" edition. These podcasts, also recognised in the Sony Awards this year, are just one example of how imaginative features and radio art are quietly flourishing in the UK. There's the rightly feted Resonance 104.4 FM, too, with its dazzlingly eclectic offerings, and newer initiatives such as In the Dark, curating spoken-word radio events that bring together cutting-edge producers and fans of broadcasting that offers decidedly experimental realms.
Last modified on 2010-11-06 16:18:57 GMT. 0 comments. Top.
"While films and documentaries enjoy a well-established place in the world's cultural imagination, their aural counterpart –the Radio Feature, seems to live in a strange and much neglected no-man's land somewhere between journalism and art. Sarah Stolarz went to meet the founder of 'In the Dark' to bring you this report"
Audio clip: Adobe Flash Player (version 9 or above) is required to play this audio clip. Download the latest version here. You also need to have JavaScript enabled in your browser.
Last modified on 2010-07-14 15:39:36 GMT. 0 comments. Top.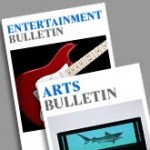 Last modified on 2010-09-27 23:25:24 GMT. 0 comments. Top.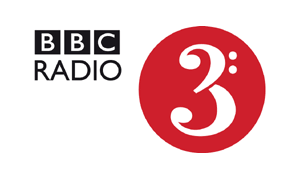 "We've a long interview with Martin Amis coming up in Night Waves next Thursday - the occasion of course is his new novel which is already stirring up debate and I'm looking forward to hearing his conversation with Philip Dodd.
But it was something Martin Amis wrote some time ago that came to my mind earlier this week. It's a short story, and I've not read it for a while, but I remember it inverts to wonderful comic effect the worlds of Hollywood and poetry publishing – so that screenplay writers submit their work to little magazines and poets are flown to Los Angeles first class. It struck me that Amis might have chosen radio feature-makers instead of poets for this absurd reversal of fortunes when on Tuesday night I was listening to independent radio producer Alan Hall introduce the first event from a new organisation – In The Dark…."
Continue reading here>>