London Event


Sold Out
26th January 2016
Iain Chambers
The Bell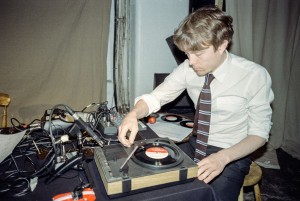 We are so happy to be kicking off 2016 with composer and producer, Iain Chambers. Iain has a unique history working in sound and radio, having produced specialist music programmes for BBC Radio 3 for 10 years,  co-founded music concrète collective Langham Research Centre and formed the forward-thinking arts and media co-operative Open Audio.
Most recently Iain staged the first concerts ever held in Tower Bridge's huge subterranean space with his own composition, Bascule Chambers, which used the sound of Tower Bridge lifting as compositional material, alongside trumpets and trombones playing the pitches sounded by the bridge.
Iain will be playing a selection of his own compositions and radio productions and the work of others who have inspired him along the way. We hope you can join us for an evening with a very unique producer.
---
WHEN: Tuesday 26th January, 7.30pm
---
WHERE: The Bell, 50 Middlesex St, London E1 7EX
---
TICKETS: £6 – This event has now sold out. For information about future events sign up to our mailing list or check out our Twitter @inthedarkradio
---