Detroit Event


13th September 2014
The Poetry of Places
Matrix Theatre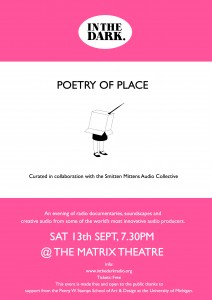 This weekend we're off to Detroit to team up with The Smitten Mitten Audio Collective to present an evening of audio on the theme of Poetry of Places – radio documentaries, soundscapes, creative audio from some of the world's most innovative audio producers.
The "Smitten Mitten Audio Collective' are a group of audio artists and radio journalists based in Detroit and Ann Arbor who meet to share inspiration and workshop creative projects.  They exist to nourish, assist and inspire one another, and the general public, through the creation of thought provoking, convention bending audio.
Hang on to your seats as we travel to faraway places!
Where: Matrix Theatre, 2730 Bagley St, Detroit
When: Saturday September 13, 7:30-9:00 PM
Tickets: Free. Arrive early, seating is limited.
This event is made free and open to the public thanks to support from the Penny W. Stamps School of Art & Design at the University of Michigan.